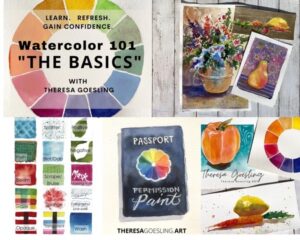 NEW! Watercolor 101 "The Basics"
with Theresa Goesling
Dates: September 7 & 14 & 21 & 28 9am – 11am PDT
Level: Beginner and High Beginner
A V.I.E.W. Workshop
Are you new to watercolor painting? Do you just need a refresher course? Do you just want to build on your own skills? This 4-session course is just for you! Theresa's hands-on approach to learning will elevate your knowledge of watercolor painting, so that you will feel more at ease with the painting process. Learn why artist quality paints, paper & the right brush will help you achieve awesome results from the get go. Each week we will build on the fundamentals taught in class and I will be giving optional homework assignments that will help you practice what we learned that week.
After sign up you will be sent a recommended supply list and instructions for setting up your palette ahead of class. Please note that the "September 7th" instruction PDF will be sent in later in August.
September 7: Learn your Palette. Your palette will become your favorite companion. You will learn the difference between opaque and transparent watercolor paints. We will be doing various color studies & techniques in class. These simple exercises we will be covering are the essential elements to any form of watercolor painting.
September 14: Light and Shadow. Learn how to get the right water-to-paint ratio and to make smooth washes. We will explore how to mix and mingle color. Create eye-pleasing washes and shadow colors.
September 21: Value & Design. Learn basic composition and how to achieve the values with your watercolors that will create dynamic paintings.
September 28: Essentials. In our final class we will be touching on putting simple figures in your paintings, reflections in water, spritz flowers, and we will have time to answer question & recap what we learned in our previous weeks.
Enjoy your experience in an enriching and positive atmosphere that welcomes all levels of artists. Learn to build confidence as you develop a deeper understanding of design and painting techniques. Learn to embrace your inner artist and learn to develop your own painting style.
---
Theresa Goesling with her 25 years of teaching workshops will share how she makes her paintings sparkle! Her upbeat sessions guide you to "Illuminate your Watercolors ". Learn to passionately let your brush mix and mingle the colors on the paper to liven up your paintings with vibrant color.
---