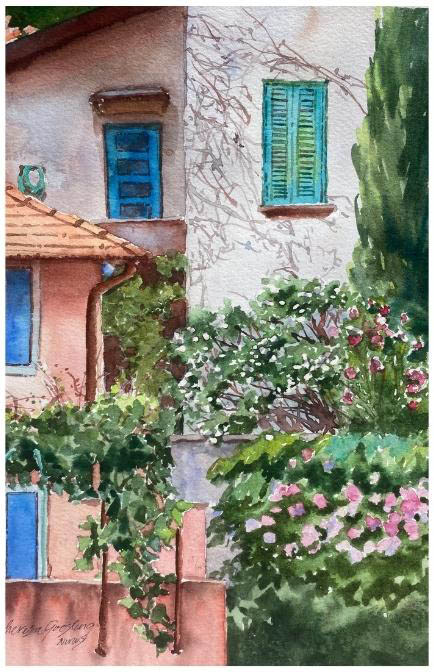 "LIVE" Online Workshop Colorful Lake Como
with Theresa Goesling
Dates: November 5 & 6, 10am – 1pm PDT
Level: High Beginner and Intermediate- Max 16 participants
A V.I.E.W. Workshop
Join Theresa and create colorful ambiance in your watercolors. You will "paint along" as Theresa demonstrates, step-by-step the enchanting scenes from her travels to Lake Como, Italy. On day one you be painting a lovely villa overlooking the glistening lake, creating a soft colorful sky and subtle water reflections. Learn to mix glowing natural greens of the shrubbery leading to the lake. We will travel back to the lake for day two and learn to paint a close-up villa scene. You will be exploring color & value techniques to create depth in your paintings. Enjoy your Lake Como watercolor workshop experience in an enriching and positive online classroom atmosphere with Theresa. After sign-up you will receive a supply list. Theresa will provide a comprehensive Lesson packet PDF, including; drawings, photographs & lesson plan.

Click Here to Learn More and Book!
---
Theresa co-authored a watercolor lesson book with Cindy Briggs, called "Make Every Day A Painting" which is available for purchase at www.MakeEveryDayAPainting.com.
---