NEW! Venice Boats & Flowers
with Theresa Goesling
Dates: August 12 & 13, 10am – 1pm PDT
Level: High Beginner and Intermediate- Max 16 participants
A V.I.E.W. Workshop
Paint along from your home studio as Theresa Goesling demonstrates "live", colorful scenes from Venice and Burano, Italy.
Sign up for one or both sessions. As you follow along step-by-step, you will create a finished painting in each session. Both workshops are for intermediate to more advanced painters.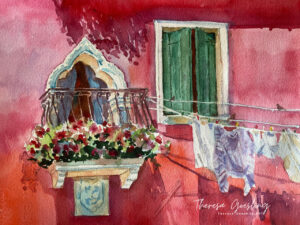 Day one: You will be painting a sunlit Italian terrace scene with flowing laundry in watercolor. Explore how to create transparent shadows on a brightly colored Burano wall with mixed and mingled red and purple washes.
Day two: Travel to Venice for the day and learn Theresa's glowing watercolor painting style. Discover how Theresa builds a painting from her many travel photographs. She will step you through designing an eye pleasing composition to executing a finished painting in watercolor. Theresa will also touch on how she paints her calm still water reflections.
Enjoy your experience in an enriching and positive atmosphere that welcomes all levels of artists. Learn to build confidence as you develop a deeper understanding of design and painting techniques. Learn to embrace your inner artist and learn to develop your own painting style.
After sign-up you will receive a PDF of lesson plan, photographs, drawings, instructions and supply lists with your sessions.
Theresa Goesling will share how to make your paintings sparkle! Her upbeat sessions guide you to "Illuminate your Watercolors ". Learn to passionately let your brush mix and mingle the colors on the paper to liven up your paintings with vibrant color.
Click Here to Learn More and Book!
---
Theresa has been teaching international workshops for 25 years, including the last five years working with French Escapade. She is an award-winning fine artist and was Art Director for Eddie Bauer and signature member and past president of Northwest Watercolor Society. Theresa's work has been published in the North Light book "Splash", Watercolor Magazine and her work has been juried into the American Watercolor Society's international show in New York. Theresa has taught for Daniel Smith Artist Materials, Women's University Club in Seattle, and her studio on Mercer Island. She has juried and demonstrated around the country for many art organizations. Theresa co-authored a watercolor lesson book with Cindy Briggs, called "Make Every Day A Painting" which is available for purchase at www.MakeEveryDayAPainting.com.
---