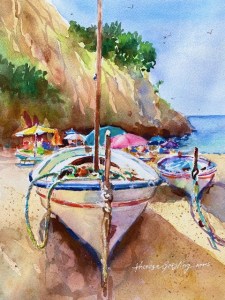 NEW! Beach's Bright & Glowing Light
with Theresa Goesling & Cindy Briggs
Dates: July 23 & 24, 10am – 2pm PDT
Level: Beginner and Intermediate- Max 16 participants
A V.I.E.W. Workshop
Stroll along the beach in Spain and you'll come across colorful fishing boats mixed in with sunbathers and colorful umbrellas. Brighten your summer days as we head to the coast to create with captivating colors illuminated by sunlight! Enjoy the camaraderie of two teachers with sunny dispositions and decades of leading watercolor workshops worldwide.
After you have registered for the workshop: You will receive a PDF of our supply list, a PDF photo of the actual location and a sketch of the scene so that you have time to do your drawing in advance. Suggestions for preparing for the workshop will be covered in the orientation session.
Click Here to Learn More and Book!
---
Theresa co-authored a watercolor lesson book with Cindy Briggs, called "Make Every Day A Painting" which is available for purchase at www.MakeEveryDayAPainting.com.
---